Review of GroovePages -- Is this Free Website Builder Worth Your Time?
Reviewing the Hype Around GroovePages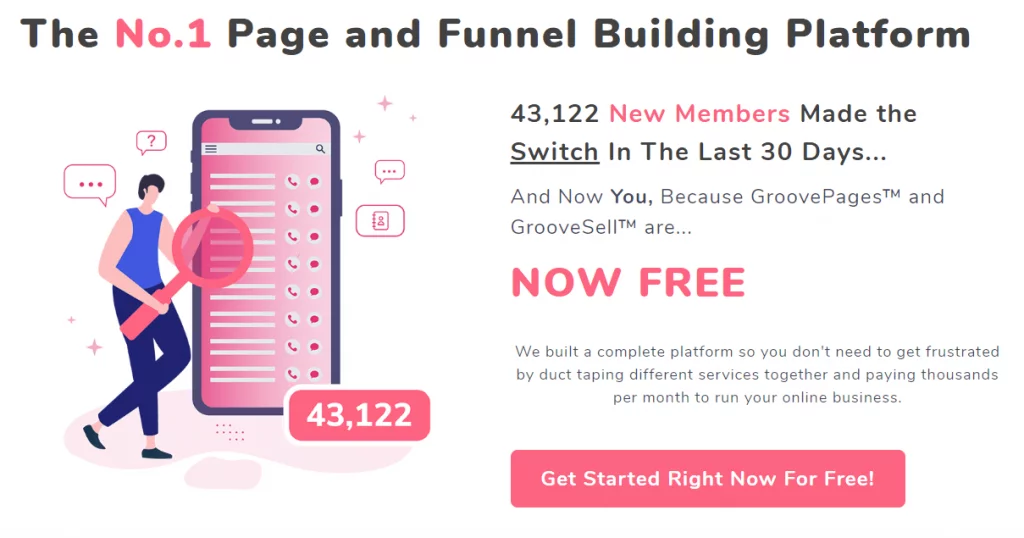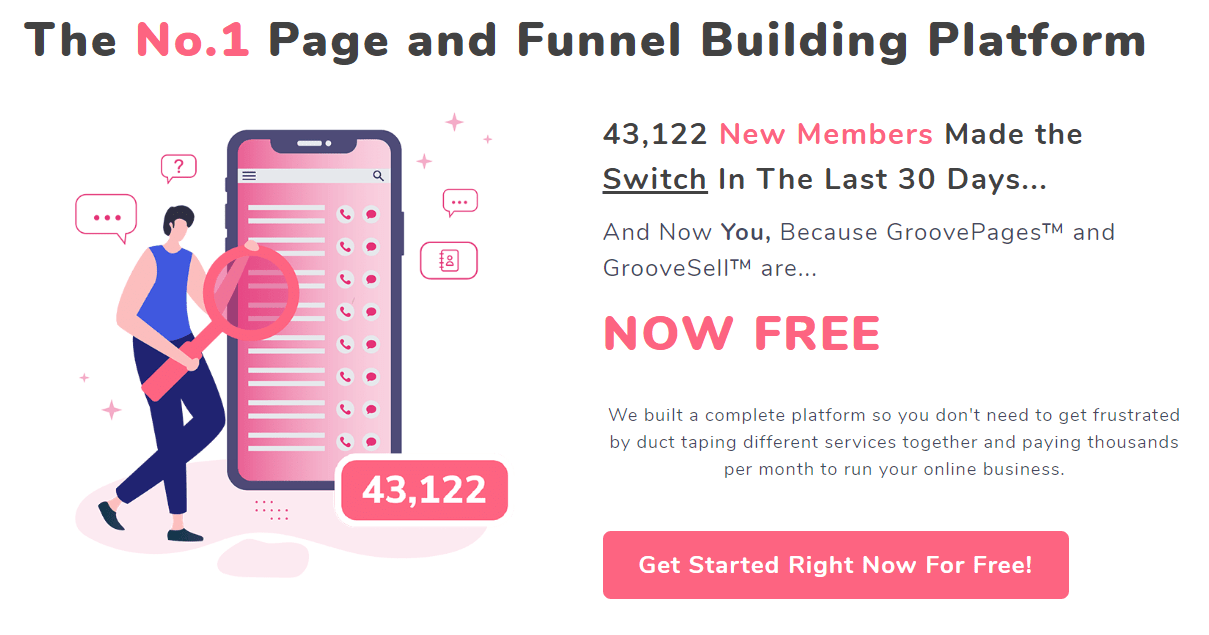 I've been actively working in the Internet marketing world, including website design and development, for over 10 years.
Within my professional time working in this space, I have mostly used WordPress when building out websites.
In the beginning, I did more custom design myself and as time went on, I began to lean more heavily on various page builders
However, what I gained from the simplicity of the page builders, I lost in the lack of fast performance. In turn, I then had to spend time on optimizing those sites so that they would load faster.
Over the years in working with clients, I've had to work in third party web builder platforms like Wix, Weebly, Squarespace, etc, and always disliked them.
They were slow, cumbersome, and lacked some of the basic functionality that I had grown accustomed to when working in WordPress.
So when some of my SEO mentors began talking about GroovePages I was skeptical, to say the least.
They talked about the technology, the speed at which you could design a page, and other great-sounding benefits.
But as much as I trust these mentors, I was quite skeptical about this great sounding platform and needed to try it out myself.
So in this GroovePages review are the conclusions I came to while testing out this new platform.
GroovePages is a website page builder that is part of the GrooveFunnels online marketing platform. 
GrooveFunnels combines over 12 different Internet market tools into one unified platform. These include GroovePages website builder, a funnel sales builder, Affiliate marketing tools, email marketing suite, membership platform, course builder, video marketing, and more. You can read our full GrooveFunnels review here.
The main purpose of GroovePages is to design out websites.
Whether those are simple single page landing pages, sales funnels, or full-fledged websites.
GroovePages is positioned as a full-service website design tool.
What Are The Advantages Of GroovePages?
In this GroovePages review, instead of a simple feature breakdown, I'm going to cover what I like about GroovePages along with what I don't like.
So let's dive right in.
GroovePages Speed and Technology
One of the first things that caught my eye with GroovePages was a screenshot someone shared of their website's load time.
They had recently built their site using GroovePages and their Google Speed metric was 92 on mobile.

In comparison, their WordPress website had a score of 20 on the mobile test for Google Speed metric. Which is a pretty common score range for WordPress websites.

Coming from WordPress where it takes a great deal of work to get a relatively high score on a broadband desktop connection, this was impressive, especially since it was over tested over the slower mobile connection.
This screenshot caught my attention so I began to look at what made GroovePages different and able to accomplish such quick load times.
The main difference that I found that allowed this kind of performance was that websites created though GroovePages were actually published as HTML pages instead of PHP.
So what's the difference between an HTML page and a PHP one?
The difference between these two has a lot to do with where the website information is stored and where the data is rendered.
An HTML page is designed to be a standalone file that contains the information for the page within the file itself.
There is typically extra information that will be required for the website to render its appearance correctly, like CSS files or JavaScript files, but all of that information is stored directly within those files.
When a visitor comes to a website built with HTML pages, all of the needed files are downloaded to the visitor's computer/mobile and then processed there.
Websites built with PHP are considered dynamic websites. They typically work via base template files that are then populated with information from a database.
So when a visitor goes to load a website built with PHP, the webserver must first populate the page the visitor is loading with information from the database, once it completes this process, it then delivers the file to the visitor's computer, and the file displays in the visitor's browser.
These extra steps a PHP built website must take add additional loading time to the websites.
Typically it doesn't add an enormous amount of time, but this along with multiple other factors that we don't have time to cover in this GroovePages review do add to the overall load time and performance of the website.
When you compare WordPress built websites against those published via GroovePages, it's much easier to come away with a fast and high performing website when using GroovePages.
This high level of performance caught my attention and one of the biggest factors holding it.
Website load time and responsiveness is an SEO ranking factor. When everything else is equal, a faster loading website will rank better.
Also, numerous studies are highlighting the fact that a large percentage of people will leave your website before it loads if it takes too long.
So it's extremely important to me for my websites to load as quickly as possible.
GroovePages pages checks that box completely!
Available Template Diversity and Options
Over the years I've used website templates a number of times.
Typically I've used them when my client's budget is small and they just need a simple good looking website.
I've also used them to give me an outline to work off of.
I'm quick to admit I'm not an artist, but I do have a level of creativity that's able to come to the surface when I'm not staring at a blank canvas.
Often I will take a template or pre-designed page and slowly transform it into something completely unique.
I never would have come up with the design on my own, if I hadn't had the template to inspire me.
And since the final product is a unique design, I've never had an issue with a client having a duplicate website as some else.
Another way that I've used templates is when I've needed to get sites or landing pages up quickly.
Sometimes you don't have the time to design something out from scratch or make something completely unique. You just need a pleasant enough looking landing pages to send prospects.
This makes having a wide array of templates to choose from extremely helpful.
You pick one, make some changes, and voila. You have a landing page up and ready.
For others, templates are incredibly important, as they would be unable to do anything without one.
I know several people who would have never been able to create their own website but equipped with a template, they can change out pictures and text and make something their own.
They now have a website that they were able to create on their own without having to pay someone else to do it.
GroovePages Templates Review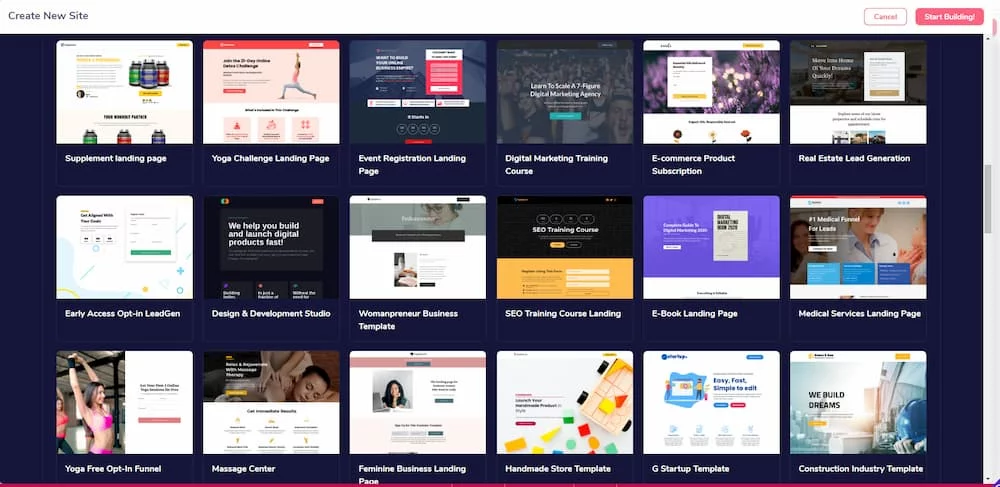 GroovePages has a wide variety of templates to choose from.
Since the platform is not limited to sales funnels and landing pages they have numerous templates that would work for small businesses.
These templates are framed out with formatting, images, and content.
They are completely ready for you to add to your site, update the content, add some of your own images, and publish your website.
These templates are incredibly useful for the same reasons I gave above.
As well as helping out beginners who know nothing of website design.
I think the selection that GroovePages offers at this point is pretty solid.
They have added a large number of templates so far since being a member and I know they will continue adding them in.
Is The User Interface Easy To Use?
The user interface of GroovePages is fairly intuitive.
Once you create your website you're brought into the GroovePages builder area.
In this section, you can manage your site, manage pages, control site settings, and publish your website.
We'll take a few moments in this GroovePages review to cover the main features.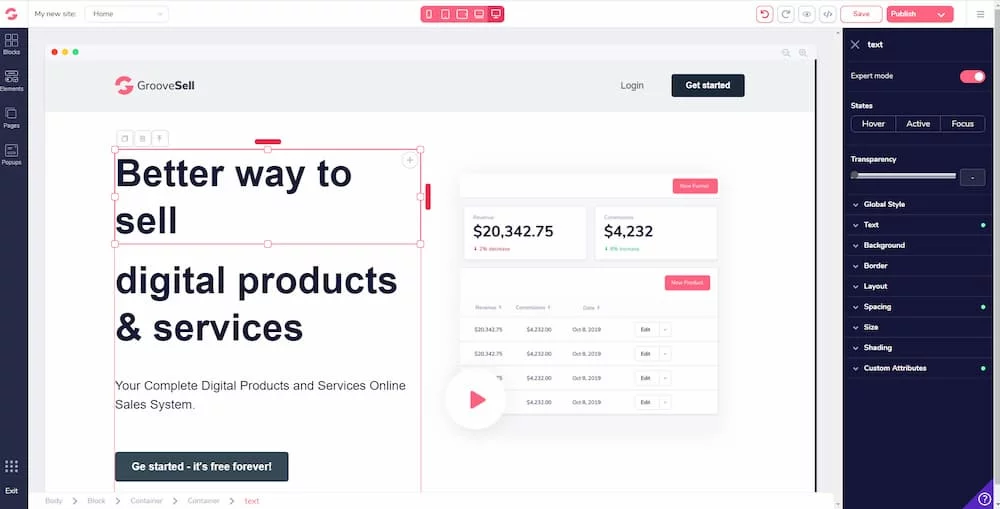 Once you've created a new website or a new page you'll be offered the option of creating it from scratch, using a template or importing in an existing site.
I have not been able to test out the import function as I use multiple layers of security on my existing websites and it looks like the import tool is being blocked by my security.
Whether you choose a template or creating a page from scratch you'll be interacting with the site using GroovePages drag and drop interface.
This allows you to:
add in new page elements
rearrange rows, columns, and elements
And click to edit the different elements


The interface works pretty well.
There are occasional bugs I've run into while using it, but those have been minimal.
I had added in one of their pre-designed menu headers blocks and tried to rearrange the logo.
Once I had moved it, I was unable to move it back to the original location it was at because it had lost the container it had been located in.
This required me to use the undo button a few times to get the logo back to where it was supposed to be.
However, they have recently added in some new sizing and formatting features that I believe would resolve this problem.
Another problem I ran into more recently.
I was trying to move a block on the page and even though I click on it it wouldn't let me drag it somewhere else. I ended up having to click on it multiple times before the drag function kicked in.
This has happened to me a few times.
Other than the occasional bug though the overall interface works well and I've been able to edit and build out pages effectively using the drag and drop interface.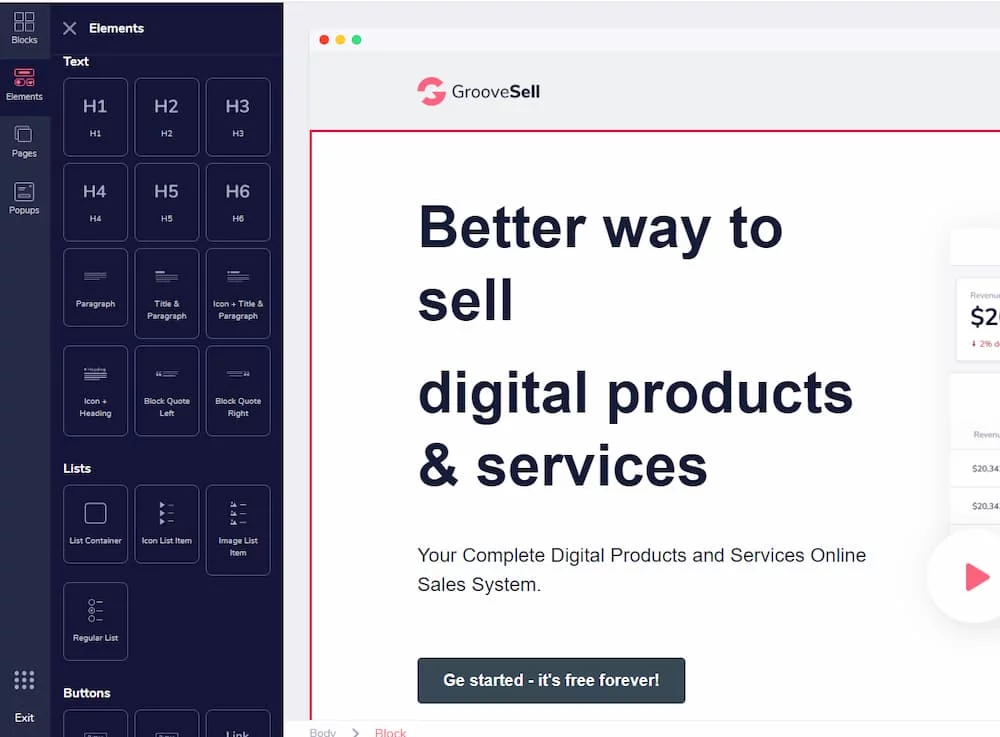 In GroovePages elements are the various individual components that make up a page.
They include items like text blocks, images, media elements, and so on.
By dragging these into the page you're able to add in the page's content.
After adding in the element you're able to edit it, make changes to the appearance of it, and drag it to other areas of the page.
For each of the various page elements, you're given a fair amount of styling control over size, color, borders, links, and spacing. Along with various other controls that are more specific to a certain element.
You can opt for simple or advanced element settings manipulation, depending on your preference.
Something I like about the text elements is that when you select a text object you are able to edit it right on the page itself instead of having to click on a separate window to edit the text.
This is a nice time-saving feature and has been lacking from many other page builders I've used.
Something that I don't currently like about the image element is that when you upload an image, the GroovePages system applies some type of compression to the image to help reduce the file size.
However, the compression type they use is far inferior to the compression that I already apply to all of my images and my images end up being at least 30% larger after uploading them.
This is a problem for me and hasn't yet been addressed by their developers.
Overall, the number of elements and functionality they provide is robust enough to support most people's needs.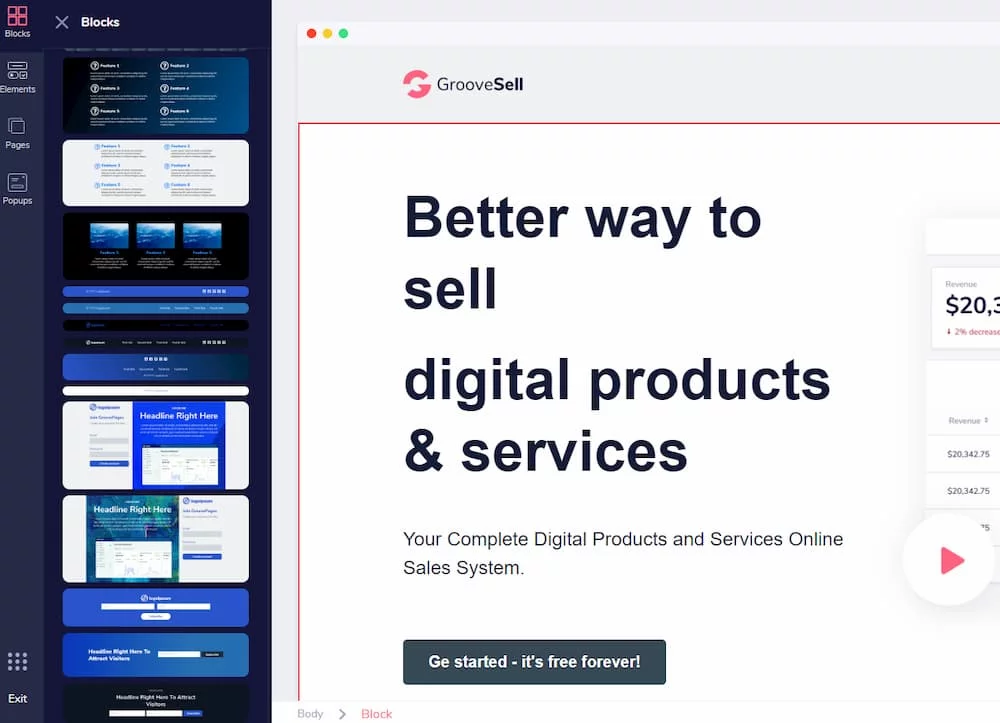 Blocks provide prebuilt element combinations that allow you to drop in full sections, into your page, that have already been created.
Blocks are smaller versions of the full template pages.
So if you already have most of your page designed, but now you want to add in an area for team member pictures, you can simply drop in the corresponding block which is already formatted and put together.
Make the needed changes and you're good to go.
The selection of pre-designed blocks is pretty comprehensive. They should have most of the basic designs and layout someone would want.
The blocks typically still need some love to make them look nicer, but it helps the development cycle out greatly.
Additionally, they have wireframe blocks.
These are great to get the basic UI of your website up before you start worrying about colors, content, and images.
Overall blocks provide the best method for getting a website created and published quickly if you're not wanting to use one of their templates.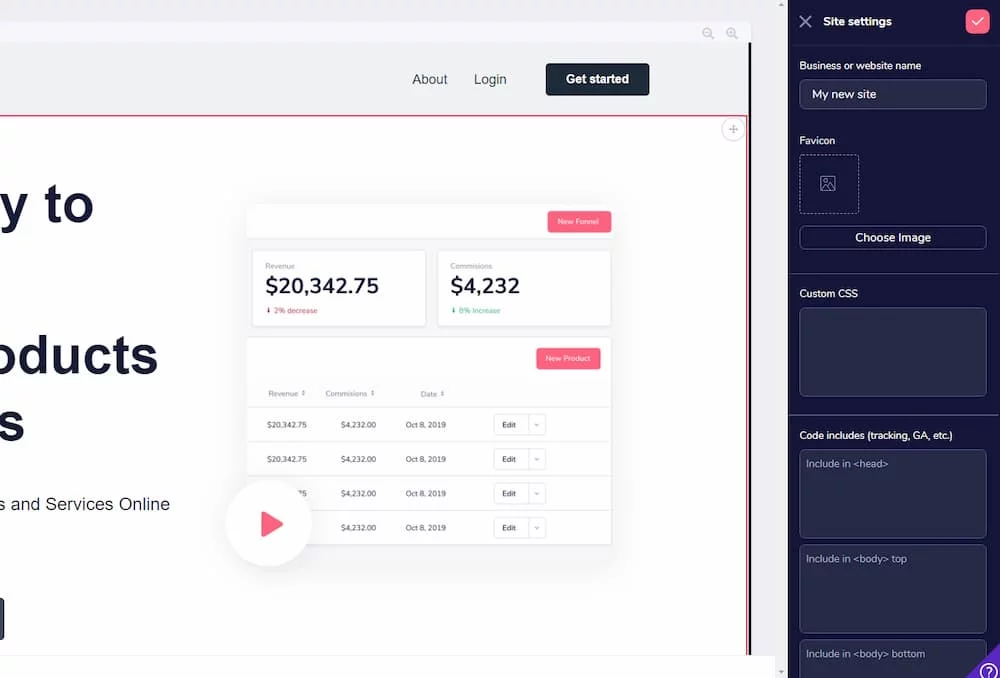 GroovePages gives you control over your basic on-page SEO needs.
You can assign a site-wide website title.
Per page website titles and slugs (page URL)
Write page meta descriptions


Additionally, in this same section, you can add in custom code into the head, top of body, or bottom of body for your trackers, analytics, etc. These settings can be applied site-wide as well as page-specific.
You can also customize your Open Graph social share settings per page.
This allows you to make sure that social shares look the way that you want them to, with the correct share title and image.
These are features you would expect to be built into all page builders, but many don't allow these settings to be edited. For the ones that do, they require you to pay extra to unlock the features.
These are features that I'm glad are included within GroovePages. Otherwise, it would be a deal-breaker for me.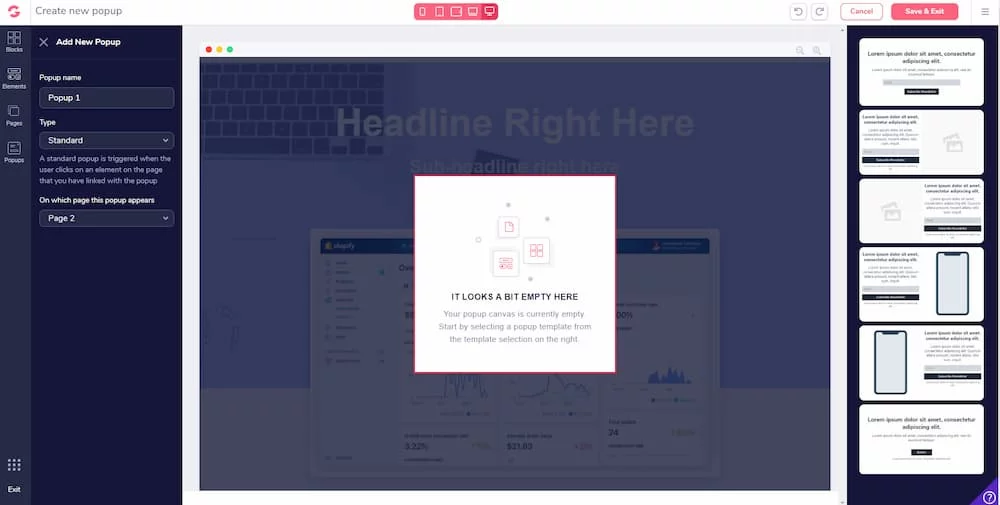 There is another section within GroovePages that lets you design page popups.
I have not used this feature at all.
I personally hate popups and try my best to use them as little as possible.
But it does look like it allows on-demand popups that are triggered by clicking on something on the page, as well as entry and exit popups.
They also include a handful of templates to choose from for your popup, or you can design your own using the same blocks and elements as talked about above.
Updates to GroovePages Since January
Something that I really appreciate about GroovePages along with the entire GrooveFunnels platform is they are constantly working on making the system better, fixing bugs, and adding in features.
Since January they have fixed, improved, or added over 300 items within GroovePages.
You can see the full list here: GroovePages dev updates
Even from the first time I used GroovePages to today, there are a considerable amount of differences and improvements to the entire system.
I've been quite fortunate in that I haven't had a system I've built a website with be abandoned, but I have known some people who have. Seeing the problems and discouragement they've gone through has made me quite conscientious when choosing to build out part of my business onto a third-party platform.
The scary thing about working with a third-party platform is that you don't have any control over it. Whatever they say is what goes.
If they screw something up, then I'm the one who ends up suffering.
If they decide they don't want to maintain their system than all I'm left with is all of the work of moving myself off of that system and on to something else.
This has been one of the reasons I've been quite adamant about having my own server, managing my own hosting, and creating my own websites. I've been able to maintain control over those things.
However, as I'm expanding my business and leveraging my time better, I'm realizing that in some areas I have to give up control.
When I find one of those areas, I make sure to do my due diligence on who and what I'm going to be working with to make sure it's going to last the test of time.
So far, I feel pretty confident with the direction that GroovePages is moving toward and I'm excited to see everything that this platform will be able to do in the next year.
GroovePages Disadvantages
Overall the platform is pretty solid and there are not too many problems with it.
In using the builder there are still occasional bugs that I run into.
I mentioned a few of those earlier.
However, I haven't run into any bugs using GroovePages that would prevent me from effectively using it.
It's just like other builders that I have used that like to do things the way they do them. That might sound odd, but often builders are a little finicky and you just have to roll with it.
Overall the GrooveFunnels platform is still under development and many of the features have yet to be released or they're still in beta.
So there are a number of features that would be provided through other parts of GrooveFunnels that have not been released yet and so the integrations are not there.
One of those would be a way to embed videos using GrooveVideos directly from the page builder.
Or integrate a form with GrooveMail. Which is not yet released.
These aren't deal-breakers by any means, just little things that are current bummers, but will get better once they release the features and as they develop GroovePages further.
The last area that is a potential negative of GroovePages is the lack of a robust support department.
Despite the amount of money they're bringing in, their support department is still relatively small. It seems like they're spending most of their money on development.
They do have a fairly active Facebook community, but community support is always hit or miss, especially when you're having an issue.
I would assume the further they get into the platform's development they'll begin to increase the size of their support department, but that's just a guess.
For me, I typically don't need to speak with a person. If I'm having a problem I'll figure it out, or find an alternate way of doing it. If it still doesn't work I'll file a bug report and go work on something else.
So this is a minor issue for me, however, I know there are a lot of people who like someone to hold their hand and be there if they need them. If that's you, just know that IMO there's not currently enough support staff to fulfill that.
GroovePages is included with GrooveFunnels. So there's no way to get it as a stand-alone product.
With that said if you sign up for a free GrooveFunnels account, you get access to what is called GroovePages Lite.
GroovePages Lite: Free Account
GroovePages Lite provides you with access to most all of the features within GroovePages but limits you to developing 3 websites.
For many people, 3 websites will be more than enough.
Especially if you're just looking for an inexpensive way to develop a simple website for your business.
Here's what all is included in GroovePages Lite:
Access to the wireframe blocks that we discussed in this review
They provide you with their starter pack for the premium blocks
Free hosting for your websites
1 website template
Up to 3 websites
A custom domain for each of your websites. This allows you to use your www.websitedomain.com instead of website.groovepages.com
Sites are branded at the bottom with a GroovePages message letting visitors know your website was built with GroovePages.


Now, if you're looking for more advanced features for your website development, as well as access to other online marketing tools, you'll want to upgrade to the GrooveFunnels pro plan.
Currently, they have lifetime pricing available for a one-time payment or broken up into as many as 12 payments.
This provides you with lifetime access and all future updates of GrooveFunnels, which includes the full-featured GroovePages Pro.
GroovePages Pro: Upgraded Account
To unlock all of the GroovePages features and abilities, you'll need to upgrade to their paid plan.
In my opinion, it's definitely worth the cost. Especially if you run a business and are willing to invest in your future.
If you're just looking for something cheap, then stick with GroovePages Lite and build out your website on the free plan.
But when you look at hosting costs over the years, it adds up, and it wouldn't take too many years to pay for the lifetime access to get GroovePages Pro, along with 12 other online marketing tools.
The whole platform has a feature set that can truly help your Internet marketing efforts.
So what all is included in GroovePages Pro?
Access to the wireframe blocks
Full access to all of the premium blocks
Access to the template library, along with all future templates added
Unlimited websites
Unlimited domains
Unlimited bandwidth
Access to their library of royalty-free images
Popup builder functionality
Free SSL certificate
Ability to import in another website that you own
No GroovePages branding if you don't want it


You'll also get access to all future feature releases. Some of those announced are:
Split testing your pages
Site analytics
Agency feature set, including team member accounts
Import in other shared sites and funnels along with sharing your sites and funnels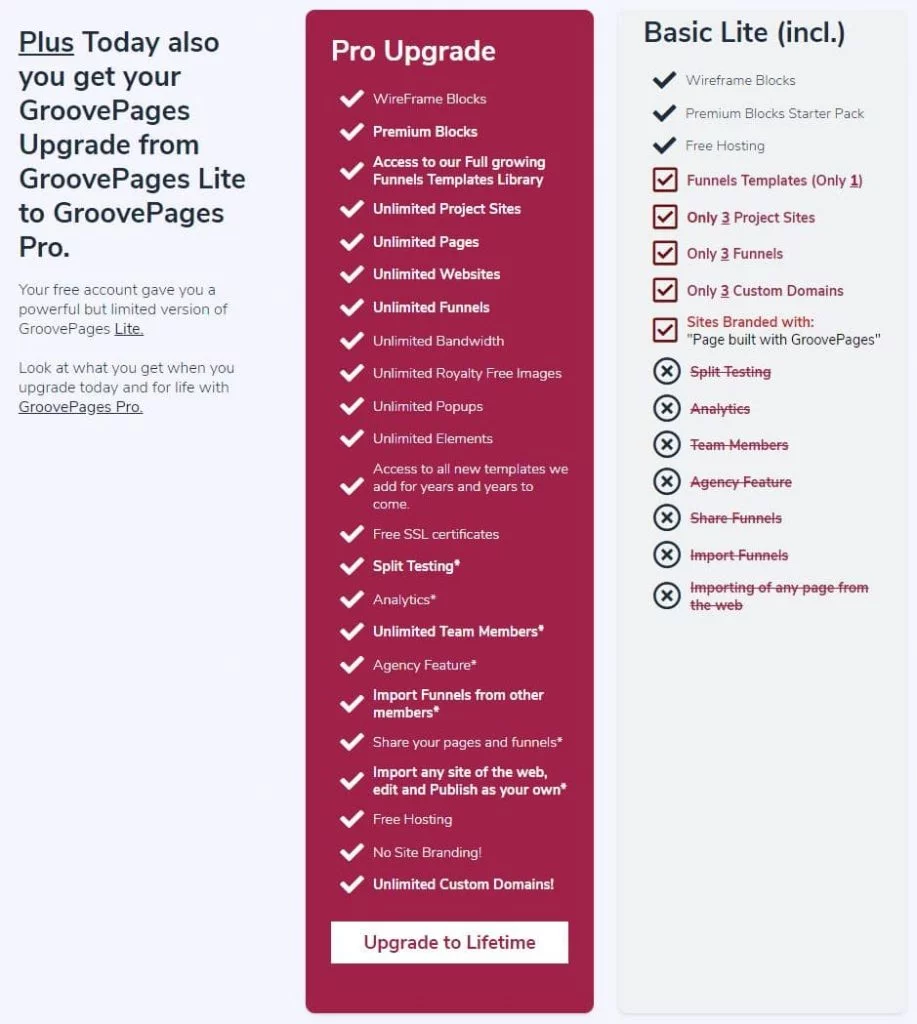 GroovePages Review Conclusion
I'm really excited about GroovePages and the direction it's going.
I'm currently rebuilding this entire website into GroovePages, along with another affiliate website I'm currently developing.
It's a platform I feel confident in its future. Enough that I'm willing to begin to part ways with the control that I've had hosting my own web server and designing all of my own websites using WordPress.
Obviously, there are things that this platform can't do currently, but there is a lot that it can.
Also, one other item that I didn't mention in this review is that that once they launch all of their various products, they will be releasing a way to build custom plugins for GroovePages and the other tools.
This will allow third-party developers to greatly extend the functionality of GroovePages. Which will allow GroovePages to be used for practically anything.
If you haven't signed up for your free GroovePages account yet, I recommend taking advantage of that to check out the platform. I don't think you'll be disappointed!