GrooveFunnels Review 2021
Review of GrooveFunnels -- Comprehensive Online Marketing Platform >> Ditch ClickFunnels & Karta for good!
GrooveFunnels Review Updated 2021 - Still The Ultimate Online Marketing Platform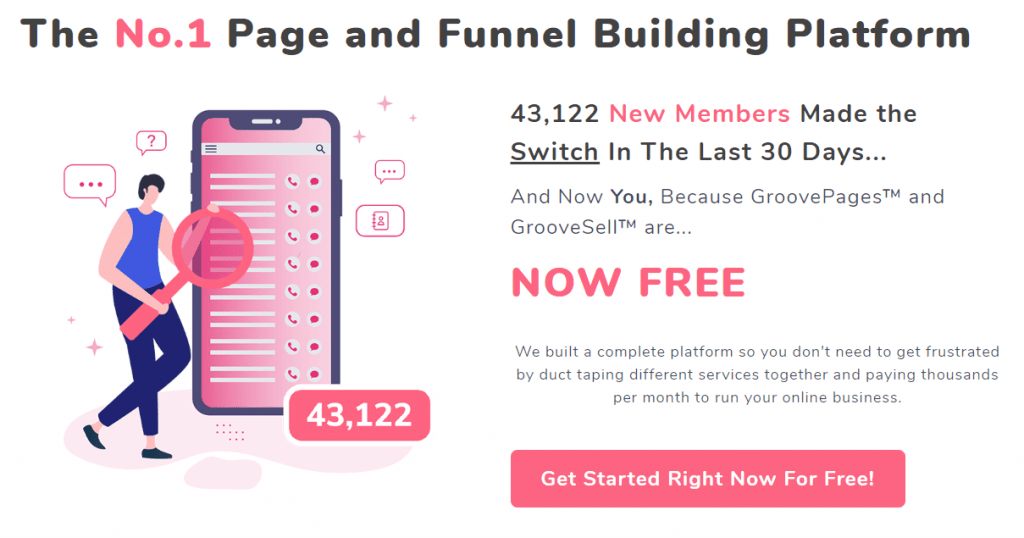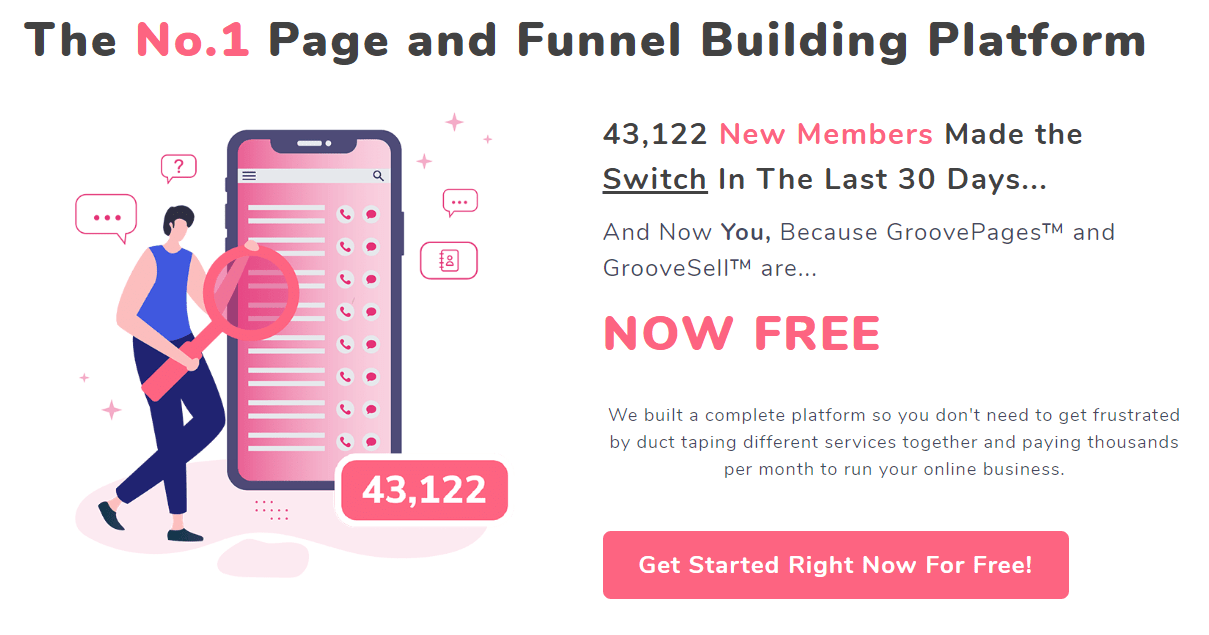 To say that I like GrooveFunnels is an understatement.
My feelings for GrooveFunnels could more accurately be described as excitement.
It's been a long time since I've been this excited about a platform.
Over 15 years ago I was beginning to learn HTML and CSS. I was starting to build basic websites, but they were ugly.
I mean, everything was pretty ugly back then, but these were really bad.
I remember coming across a website that I thought looked amazing. It had a nice-looking header, different layouts, and sections. I remember thinking, "How do I create a website like that?"
Scrolling to the bottom of the page I saw this little tag, "Powered by Joomla!"
That was my first introduction to a CMS (content management system) platform and it was one of the early memories I have of feeling excited about a web platform.
Joomla! changed the game for me.
Years later I moved on to WordPress and while an astounding CMS platform, with tons of functionality, it didn't excite me like Joomla! did in those early days.
WordPress made my life easier, I was able to create websites that looked and functioned better, but it wasn't the drastic upgrade like it was when I transitioned from doing everything by hand.
Well, that feeling of excitement has started coming back the more I've begun implementing GrooveFunnels.
This time, it's not just about creating nicer-looking websites but launching online marketing machines.
In the past, I have attempted implementing marketing systems and sales funnels into WordPress websites, but the more functionality I added the slower the websites got.
This tradeoff killed me.
Ultimately I always chose speed over function.
It didn't do me any good to have advanced systems if all of my visitors dropped off before the site finally loaded.
With GrooveFunnels, I've discovered I no longer have to make that decision.
Every part of this comprehensive marketing suite is designed for speed.
Forget sacrifice.
Get it all with GrooveFunnels!
Updated GrooveFunnels Review
Since originally writing this review last year, several things have changed with the platform.
Let's go ahead and take a look at the changes and provide an updated review of GrooveFunnels.
As of today, I've created numerous websites using GroovePages.
I've begun using it as my primary website builder for new affiliate projects.
GroovePages isn't perfect, but once I got the hang of using the page builder, I've been extremely pleased with the process and results.
Here are some of the things that I love about GroovePages.
Large Selection Of Ready To Go Designs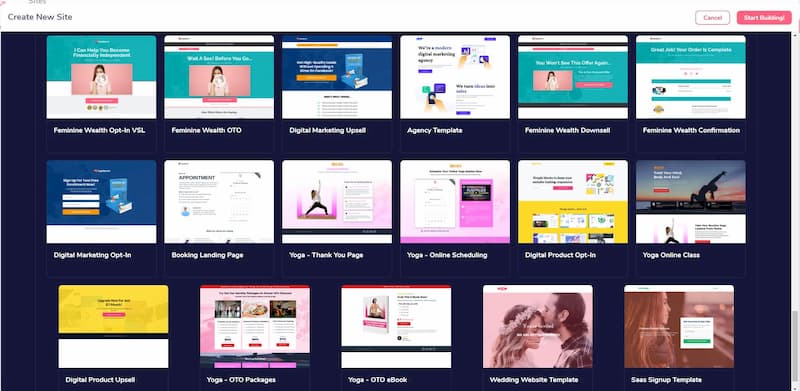 It was early on in my web design years that I learned I can't design from a blank slate.
If I'm going to create a website I need a basis of inspiration to work off of.
Ultimately, my websites end up looking quite different than the source that inspired them, but I would have never arrived at the point had it not been for the inspiration to work off of.
GroovePages makes it super easy to find a template that fits the needs of just about any digital product or niche.
As of my count today, they have 191 premade designs that would work well for about any business owner or digital marketer.
The theme categories are clean, organized, and easy to find.
Another feature that I appreciate about GroovePages is the ability to set unique styling based on screen size.
At this point, I think just about everyone knows how important mobile-optimized websites are.
Even if you don't know from a business perspective why they're important.
If you've navigated the web using your phone, chances are you've come across a website that did not have mobile in mind. After using a website with a poor mobile experience you understand first hand how important mobile-optimized sites are.
The beauty of GroovePages is that you can easily switch between screen sizes. The changes you make to the design for one screen size do not impact the rest.
So when you run into that little tweak you need to make on your mobile rendering, you're not throwing all of your other designs out of whack.
Overall the functionality of GroovePages has remained about the same over the last year.
They have rolled out the ability to import existing webpages into your GroovePages sites. I've done some testing with this and haven't had the best of luck making this work.
Typically my imported pages end up looking pretty wonky and take just as much work fixing them as manually recreating them.
However, the actual usability of the page builder has improved greatly.
They have fixed most of the annoying usability quirks with the platform.
At this point in time, GroovePages feels much more mature as a product than it did a year ago.
Over the last year, I've run into various bugs with GroovePages. One of the biggest ones I experienced prevented me from saving my site and any changes that I had made.
I ended up losing about an hour of work that I had done when I hit this issue. That was a pretty frustrating experience.
I opened up a ticket with the Groove help desk and they were very responsive in getting the problem resolved. It did take a little bit of back and forth testing, but within a day or so the problem had been worked out.
Best Free Website Builder
Even though I do have the lifetime upgrade, the free base plan of GrooveFunnels provides you with some amazing features within GroovePages.
I didn't really highlight this in my original review, but they are the only platform that I'm aware of that provides free
Website builder
High-speed hosting
Custom domain usage
Without paying a single cent, you can create your website, host it for free and use your own domain name instead of a sub-domain like .weebly or .squarespace.
The functionality that they offer under their free account is pretty remarkable.
Since last year GrooveFunnels has launched their email marketing platform: GrooveMail.
GrooveMail is a full-featured email marketing system offering lead gathering using customizable forms, custom-designed email sequence campaigns, and automation switches that are integrated into every other piece of GrooveFunnels.
I have only had limited usage of GrooveMail so far. I have not been as focused as I probably should at building out email lists, but that will change in the near future.
GrooveMail did run into a slight hiccup after launch.
They were not anticipating all of the ways that devious people would try to get around their spam protection systems. This ended up resulting in some of their sender IP addresses getting blacklisted.
As a response to this, they have halted outgoing marketing emails using their SMTP until April 15th.
You can still use the platform but will have to integrate a third-party sender if you want to do more than just collect leads.
For now, I'll use the opportunity to build out my list and start creating my follow-up sequences.
GrooveVideo has undergone some additional development since it was released last year.
They have improved the functionality of the different video marketing elements. You can embed time-based overlays, CTAs, banners, and email opt-in forms and they all work much better than they did previously.
Also, if you're using the free account, you can't upload your own videos onto their hosting, however, you can now use YouTube videos as the video source.
You can also use any mp4 video file that you have hosted on another server.
My favorite of these tools is probably the email opt-in.
Even though I haven't been the best at creating email lists, this one is pushing me to create good content that's worth someone putting in their name and email address for.
I like that it's a more seamless process when compared to the traditional way.
Instead of having a page that you put in your name and email address and then are taken to the page with the video.
You can do it all from one page, in one fluid motion.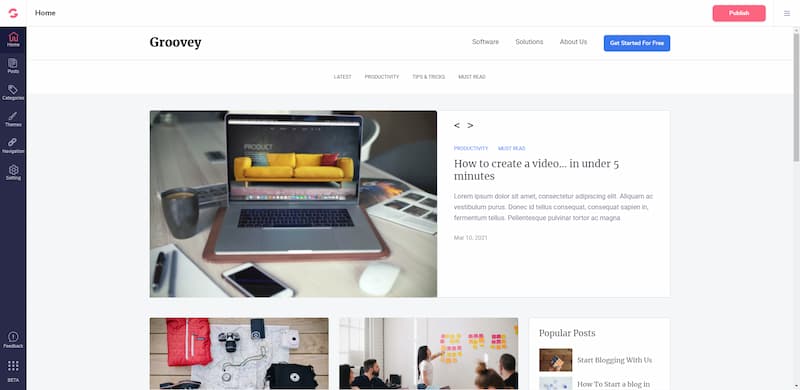 GrooveBlog is a feature that I've been looking forward to.
GroovePages works great for designing websites, landing pages, and funnels, but does not work well for blogging.
GrooveBlog looks like they've captured the best features from the competition and distilled it down to a simple blogging platform.
The interface is clean and it's easy to make a new post. You can easily customize the look and layout of the blog.
It provides the ability to organize posts by categories and tags.
If you want to allow comments, you can integrate GrooveBlog with a Facebook App ID to utilize Facebook's commenting feature.
Each post provides the ability to set the meta title, meta description, as well as Open Graph data.
It also provides an area to enter in custom code for those looking to utilize third-party analytic platforms.
The only thing currently missing from GrooveBlog is the ability to utilize a custom domain. It's currently restricted to the *.grooveblog.com subdomain. Though I expect that will change pretty soon.
Last in our updated GrooveFunnels review is GrooveKart.
Since last year GrooveKart has been converted from a stand-alone system and more deeply integrated into the GrooveFunnels platform.
Previously, to create a new GrooveKart store you had to email GrooveFunnels support. They would then create it and email you the credentials.
You would then utilize unique login information to access your GrooveKart's store administration.
This has now all been built into GrooveFunnels.
When you're ready to create a new store, simply request one from the GrooveKart area.
As of the last store I created it still took around 24 hours for the store to be set up and added to my GrooveFunnels membership area.
Once there, to access, you simply click on the store and you're automatically logged into the admin side of the store.
A lot of the backend management has also been upgraded.
When editing the store you're now loading an editor with the same functionality as GroovePages.
When adding in new products, you're not loading an editor with the same functionality as GrooveSell.
Overall, they've done a great job at unifying the two platforms and making them feel much more cohesive.
If you've read this far, you know that I like GrooveFunnels.
I'm excited about where it's currently at and looking forward to everything that's to come with the platform.
I can easily see myself completely abandoning WordPress and moving exclusively to GrooveFunnels.
If you haven't checked it out yet, then I highly recommend signing up for a free account and giving it a chance.

Read Full 2020 Review Of GrooveFunnels
Marketing products or services online can be a daunting task.
From websites, to emails, to social media, to selling your products and services… there is a lot to cover.
Many people see all of this as an unbelievable amount of work and understandably get a little overwhelmed and just don't know where to start.
Having worked in the online marketing space now for over 8 years I know that feeling first hand. It's taken an incredible amount of time to learn the skills that I've needed to succeed in this space.
However, I've recently come across an amazing software suite that has helped me speed this process up and I want to share it with you.
What is it?
It's called GrooveFunnels.
And if you're looking to increase leads, save money, and generate more revenue than ever before in your online ventures… make sure you pay attention to this GrooveFunnels review. 
GrooveFunnels is an all-inclusive marketing software suite that was created with entrepreneurs, small, and large businesses in mind.
Whether you maintain physical locations or your entire business is run online, this software suite is equipped with the tools you need to succeed online.
Each of the individual applications included in GrooveFunnels has a distinct function, but with the unique advantage of already being completely integrated together.
This is the beauty of managing your online marketing campaigns in an all-inclusive software suite like GrooveFunnels.
It's already integrated.
Instead of having to pay for and then integrate together 12 different online marketing services, it's already done for you.
Say goodbye to 12 different bills… APIs… and Zapier…
And say, "Hello" to integrations designed from the ground up.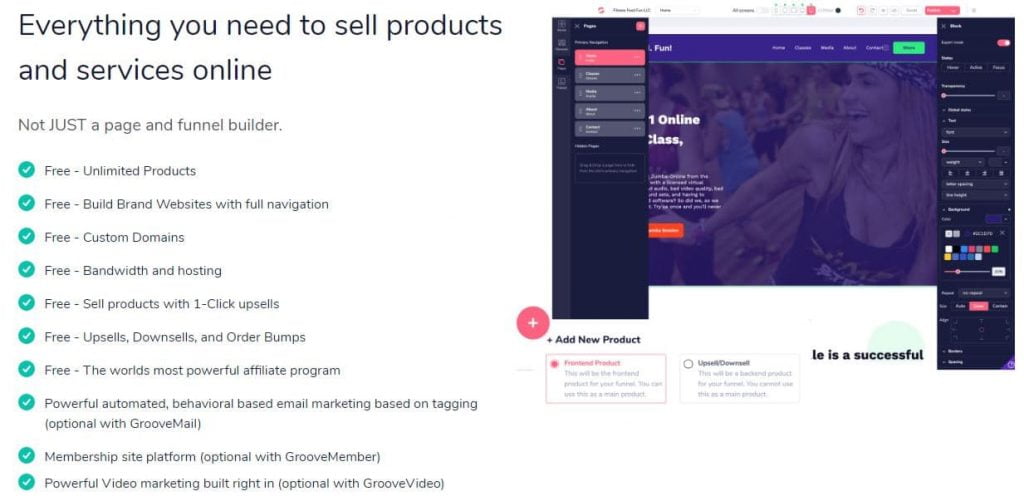 Who Created GrooveFunnels
GrooveFunnels is a product of Groove Digital, which was founded by Mike Filsaime and John Cornetta. The project aims at revolutionizing how digital marketing is done by providing every business with an all-inclusive software suite.
In order to ensure that the project addresses the users' needs adequately, other partners who are also co-founders of Groove Digital have been involved in creating it. They include Mattijs Naus, who acts as the CTO for GrooveFunnels, and Matt Serralt, who is the COO of Groove Digital.
Many of the members of the team involved in designing GrooveFunnels have been previously involved in creating other software projects for online marketers.
Taking the knowledge and insight they gained from these past projects, they came together to design the ultimate online marketing suite.
Knowing the limitations of their past software, and the gaps that exist in the current market they created GrooveFunnels to be the tool that every business needs to manage their online marketing today.
GrooveFunnels Long Term Future
I recently watched a webinar about upcoming updates for the GrooveFunnels platform and Mike Filsaime was sharing about GrooveFunnels' success so far.
He was sharing that many people have compared GrooveFunnels to ClickFunnels and that they now have equivalent memberships and yearly revenue. However, he said that he has his eyes set to not become bigger than just ClickFunnels, but to become a business solution bigger than SalesForce.
They have a big vision for their future.
SalesForce is a multi-billion dollar company. While other digital marketing platforms are closer to the 100 million dollar range.
It would be much easier for them to set their goal on being the ClickFunnels replacement, but I like that they've set their sights much higher than that.
Personally, I love dealing with companies that have big goals for their future. It gives me the confidence to formalize my own long term strategies and vision using the platform.
Third-party platforms have inherent risks to them. We really have zero control over the platform itself.
There's always a risk of spending so much time and effort building something out onto a platform and within a few years that platform goes out of business.
Or, maybe even worse, they lose interest and the platform still exists but goes down the drain.
I have been burned by both of these scenarios in the past, so I'm now more careful before jumping into a new platform.
However, the more I've been using GrooveFunnels, looking over their material, and watching their videos/webinars the more convinced I've become that this marketing platform has an amazing future ahead of it.
GrooveFunnels is Designed to Help You Sell, Not Constantly Sell to You
In this GrooveFunnels review, I wanted to highlight something Mike Filsaime said something on a recent webinar that convinced me to go all-in on GrooveFunnels.
As he was sharing about the software and some upcoming release dates, he made the following statement "Look we're a software company first."
Meaning, we're not trying to be a marketing company disguised as a software company that wants to try to sell you every new feature, and continually upselling you. We're focused on building an amazing platform that people actually use for their company's marketing.
This right here has been my main complaint with so many SaaS platforms out there, especially marketing ones. They are constantly working you and trying to sell you something new.
They sell you on the idea of doing everything with one simple price. But then when you get into the platform, you realize quickly that you can't do what you need to do without upgrading to their maximum plan or adding on 10 different add-on services.
From everything that I can see with GrooveFunnels, they're designing their system the complete opposite of the "always upselling" model.
They currently have a completely free version with access to some of the features and some limitations.
Their current upgrade is being sold at a one-time price with lifetime access. Including all of the future features that haven't been released yet.
So instead of nickel and diming you for every new feature that's released, they're rewarding you for supporting them in the beginning.
Eventually, GrooveFunnels will move to a monthly reoccurring fee that will cost exponentially more over time than getting it now at the founder's rate.
Who is GrooveFunnels Designed For?
The question comes to this, who needs GrooveFunnels?
GrooveFunnels is designed for businesses and individuals who want to succeed in marketing their business, products, and services online without needing to piece together multiple different solutions.
You don't need to be an experienced programmer or coder to use the highly advanced marketing tools that come with it.
This is because the tools are provided in an easy to use graphical interface that even beginners can learn fairly quickly.
GrooveFunnels allows even beginners to create captivating landing pages, sales funnels, upsells, down sells, email autoresponders, and more.
What's more, GrooveFunnels is built on the latest web technology and creates fast performing pages that load in a fraction of the time compared to other online web builders.
What Does GrooveFunnels Include
Everyone at Groove Digital is excited to introduce this all-inclusive digital marketing platform that is set to transform how both new and established businesses market their products and services online.
The marketing suite is separated into distinct tools each having a specific use, with all of them integrating seamlessly together.
This provides you with a huge array of functionality while making the whole package easier and cheaper as opposed to having multiple tools from different software providers to perform the same tasks.
Since GrooveFunnels is still in development, some of the tools have not been launched yet, and are slated for release in the 4th quarter of 2020.
Over half of the suite has been released and is ready to use.
Since the software is in active development, there are still bugs that you may come across or certain functionality that doesn't work as easy as it should.
However, the Groove Digital team is working constantly on the tools within GrooveFunnels and it's amazing to see the progress they're making each week.
In this GrooveFunnels review we're going to take a brief look at each tool to understand the benefits that you can get from incorporating GrooveFunnels into your online marketing campaigns.
GroovePages - Fast Website Builder
GroovePages enables you to create appealing web pages that load fast and are mobile responsive.
The website builder comes with easy to customize templates that enable GrooveFunnels users who have no background in coding to create custom websites quickly. This means that you don't need to take a crash course in JavaScript or HTML to enable you to use this software.
GroovePages use the latest framework in JavaScript known as VUE.JS, which runs behind the scenes to deliver a user interface that is faster and easier to use than other website builders.
A key advantage of GroovePages is that when you publish your website, it is converted directly into HTML.
Why is this important?
Well, it allows the website to load extremely quickly and efficiently.
Let's compare it to the most popular website platform today, WordPress.
The WordPress platform uses PHP and MySQL which is great for websites that require users to log in and have unique member areas.
These types of sites work by storing all of the website's content and information within a database and then generating the website pages as someone visits them.
This process tends to have a higher amount of wait time in comparison to an HTML page that's already generated.
Instead of the server having to go through multiple steps on its side before a visitor can download the page to view within the browser. Everything is already ready for a visitor to download as soon as their browser initiates a connection.
So by bypassing the server-side work, websites created through GroovePages load faster and feel more responsive when interacting with them compared to those created with WordPress.
This provides you with a great advantage of your competition.
Slow websites are one of the top reasons given for visitors leaving a website.
Website load time is also a Google ranking factor. Meaning websites that load quickly get a small boost in the search rankings.
GroovePages also generates mobile and tablet ready websites without any extra work!
For a more in-depth look, read our GroovePages review.
GrooveSell - Product Sales Funnel Builder & Designer
Do you sell digital products or services online?
If not, do you want to?
GrooveSell is designed from the ground up to be a powerful product sales funnel software.
With it, you can design unlimited funnels from beginning to end complete with upsell bumps, down-sells, multiple price points, trials, one-time payments, recurring payments, and even installment payments.
It integrates with Stripe, Authorize.net, NMI, PayPal, or you can apply for a GroovePay account (more on that later).
GrooveSell is a complete digital shopping cart solution for designing powerfully profitable sales funnels.
The best thing about GrooveSell is that it does not charge you any extra fees for selling your products since it is part of the GrooveFunnels suite.
There is even more functionality to GrooveSell, but we'll be covering that further in a separate review.
GrooveAffiliate - Ultimate Affiliate Marketing System To Exponentially Increase Product Sales
On top of everything that GrooveSell offers, it works seamlessly with GrooveAffiliate.
GrooveAffiliate allows you to recruit affiliates to sell your products online and make a commission of the sale.
The functionality is quite impressive.
Allowing you to create multiple levels of commission, multiple tier affiliates (meaning an affiliate can recruit another affiliate and make a percentage of their sales), promos, and bonuses.
The system keeps track of your affiliate commission so that you can pay out sales and easily handle taxes.
GrooveFunnels Affiliate also allows you to market products from other marketers using GrooveFunnels and earn a commission for any successful sale you make for them.
They are soon launching an affiliate marketing marketplace that will allow you to easily post your sales funnels and recruit affiliates as well as find great products to promote.
This will be very similar to other affiliate programs like JvZoo, PayKickStart, WarriorPlus, and ClickBank.
Since it is part of the GrooveSell app, however, there are no extra charges for using it.
You can save more by checking your affiliate commissions, refunds, and track progress of the products you upload on GrooveAffiliate all free of charges.
Due to the easy to use interface and the fact you don't incur any additional charges by using GrooveAffiliate the affiliate marketing platform will soon become quite popular among the top affiliate marketer.
GrooveVideo - Double or Triple Visitor Engagement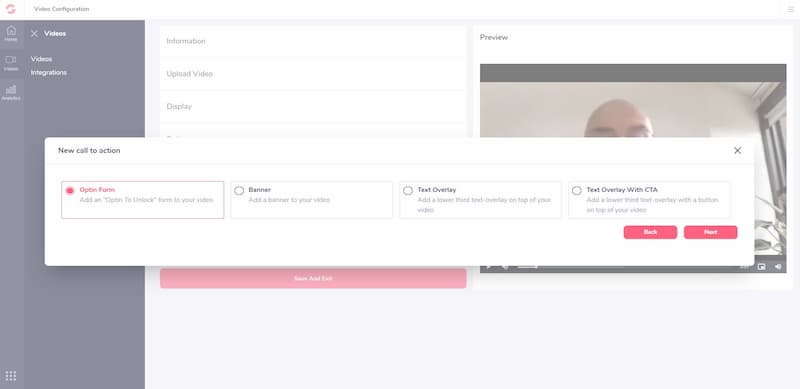 Did you know that you can easily double engagement with your website or shopping cart when you incorporate engaging short videos?
GrooveVideo enables you to host interactive marketing videos on your website. It provides up to 100GB of storage and around 22,500 minutes of playtime per month. (free users will need to provide their own storage space, but will still have access to the player and marketing functionality)
This tool provides the online marketer advanced features, without requiring complicated tools, that allows you to add calls to action directly over the video.
Have a VSL (video sales letter) that needs to pop up with a checkout link at a certain time during the video. With GrooveFunnels you can do that.
Do you have a video that you'd like to use to increase your email list?
With the optional opt-in form, you can actually stop the video at a particular spot and only allow them to continue playing after they've entered in their name and email address.
GrooveVideo also provides you with analytic information that tells you how many people have watched a particular video and if they're watching all the way through or stopping beforehand.
You can customize the video thumbnail that users see before loading the video so that you can pick an enticing thumbnail that attracts more views.
You can also customize the player interface by color, title, and whether you want to allow the visitor to have control over the player controls.
Since GrooveVideo is still under development, many more features will be released for the platform as time goes on.
Safe to say, it's already a powerful video marketing platform that's only going to get better!
We're currently writing another review article that goes into even more detail for GrooveVideo.
GrooveMail - Smart Prospect Engagement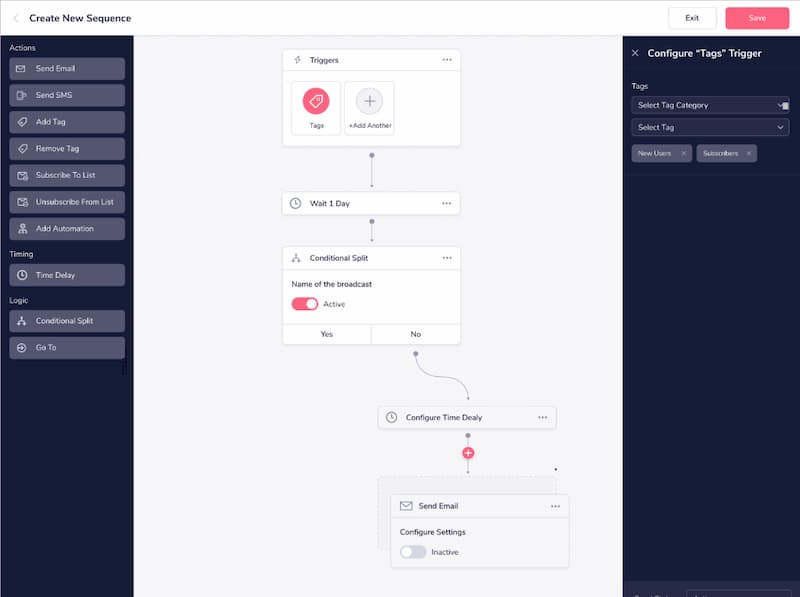 GrooveMail is a first-class email marketing platform, designed with advanced functionality that not even many of the most popular email marketing systems have.
GrooveMail enables you to transform communication with both existing and potential customers using a results-oriented tailored emailing service.
Using its advanced automation sequences you can create event-based auto-responders, email follow-ups, and even cart abandonment email triggers for prospects who didn't follow through with their purchase in GrooveSell.
It includes split testing and analytics so that you can perfect your email marketing campaigns.
Beyond just email, it includes automation for text messages (SMS) and voice message broadcasts.
GrooveMail is available on the paid plans of the GrooveFunnels app and allows you to mail up to 10,000 contacts a month.
There are many more features that will be revealed when GrooveMail launches in the 3rd quarter of 2020.
I can't wait for this GrooveFunnels feature to be released. Expect a dedicated review as we tear down all of the GrooveMail functionality.
GrooveMember - Online Course and Membership Site Creator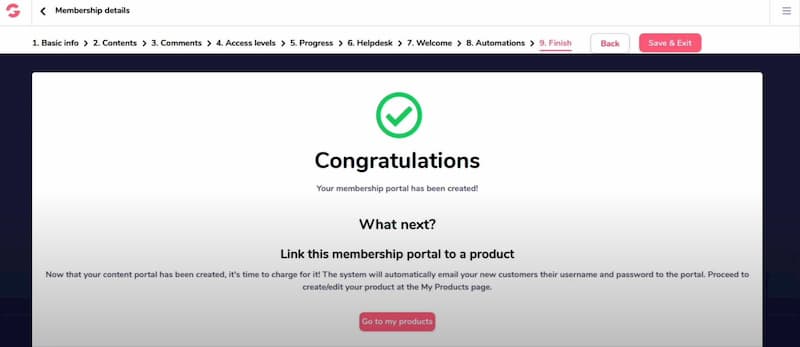 GrooveMember allows you to create free and paid membership sites for online courses and premium content not available to non-members.
The platform uses a simple user-friendly interface that incorporates drag-and-drop content blocks that allow you to add or remove content from the membership site. It also comes with a wide variety of themes to pick from.
GrooveMember will allow you to deliver your content as soon as a member signs up, or release the content incrementally over a preset amount of time.
GrooveFunnels will be release in the 3rd quarter of 2020.
Online courses are exploding in growth and the income potential of sharing your knowledge can be huge. GrooveFunnels will give you the tools you need to get your knowledge released and ready for others to learn from.
GrooveKart - Online Shopping Cart and More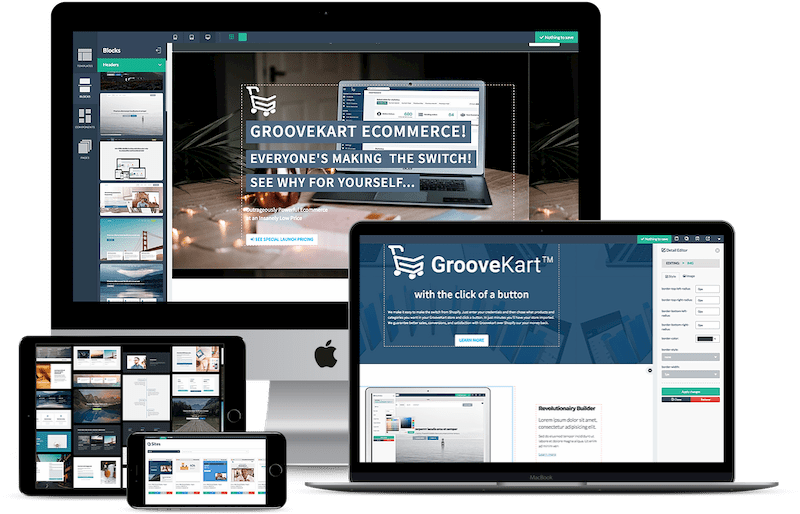 GrooveKart provides a powerful shopping cart solution that you can use to sell your physical products online.
When compared to something like Shopify, GrooveKart can match the functionality but adds a load of additional features and advantages.
GrooveKart is designed to load each page of your shopping cart quickly.
Too many shopping carts are slow and clunky, which costs you a lot of money. It's said that for every 1-second delay in a page's response, that a visitor's conversion rate reduces by 7%.
That 7% can add up to A LOT of money, especially when you think about how slow many of the other shopping cart platforms are.
Additionally, GrooveKart is loaded with features like order bumps, scarcity low stock messages, count down timers, social proof popups, upsells, related item notifications, customer reviews, and more.
It works with Stipe, Authorize.net, PayPal, or a GroovePay merchant account.
Beyond its standard shopping cart functionality, it also integrates directly into multiple drop-shipping and print-on-demand platforms.
Allowing you to add additional products to your current inventory line-up or skip product inventory altogether.
GrooveKart is truly a powerhouse in the shopping cart world.
What's the difference between GrooveKart and GrooveSell?
Earlier in our GrooveFunnels review we covered GrooveSell.  For some people there may be some confusion over the difference between these two parts of the platform.
So let me try to explain this fairly simply.
GrooveSell is designed more for digital a product sold through a product funnel. Meaning, a prospect is given the option of purchasing a single product with potential upsells.
GrooveKart is designed for a prospect to browse all of your products and decide one or many items to purchase.
GroovePay - Best Merchant Processing Available for High Volume Sales
GroovePay is a merchant processor account designed for online businesses, digital marketers, and e-commerce stores.
One of the key advantages of GroovePay is their ability to approve businesses and individuals working mostly online that may be considered "high-risk" to other processors.
GroovePay doesn't have an application fee to apply, and they don't nickel and dime you like other processors do.
There are no additional statement fees, PCI fees, annual fees, or cancellation fees.
They don't have minimum monthly processing requirements or fees associated with not meeting those minimums.
GroovePay has a simple fee structure.
Their per-transaction fees are 2.85% + $0.25. They also charge a $40/mo gateway fee.
Both PayPal and Stripe have a per-transaction fee of 2.9%+$0.30 but don't have any additional monthly fees.
So which is better?
That mostly depends on the volume of sales you're doing.
If we just take the 5 cent savings per transaction, if you sell 1000 items a month, that adds up to $50 in savings when compared to PayPal or Stripe. That covers the $40 fee and makes you $10 additional dollars.
So clearly, the higher volume sales you perform the better GroovePay looks.
There's also the obvious advantage. If PayPal or Stripe won't approve your account, GroovePay just might.
The reviews we've seen for this service have been very positive.  Again, it may not be the best merchant account for you, however, with the right amount of volume it looks like it could save/make you a lot of money!
GrooveBlog - A Simpler Way to Blog
Easily create content for your website with GrooveBlog.
If you're looking for simple blogging functionality for your website GrooveBlog will work great for you. If you're looking for advanced functionality or a WordPress replacement, it's not going to quite meet those requirements.
And really, that's okay.
GrooveBlog is designed to be a simpler blogging platform with an easy to use interface.
The blog pages offer amazing search engine optimization that will make blogs more visible and easier to locate.
In a previous webinar, Mike Filsaime stated that they were not creating GrooveBlog to try to compete with WordPress. He stated that if you need the functionality of WordPress, you should use WordPress, but if you're just looking for an easy to use blog, GrooveBlog will be perfect for you.
GrooveBlog is slated to be released in the 4th quarter of 2020.
GrooveWebinars - Total Live or Evergreen Webinar Solution
Using GrooveWebinars you can create live seminars, broadcasts, and product launches that integrate directly into your existing pages, carts, and funnels throughout the GrooveFunnels platform.
Using the platform you can share your screen with your presentation, show your camera, or both at the same time.
It supports multiple presenters, incorporates viewer interactive functions, and allows control over the template design of the webinar viewer.
Most webinar platforms only allow you to run live webinars, but with GrooveWebinars, you'll also be able to run evergreen webinars.
Evergreen webinars position pre-recorded webinars or videos as live webinars.
Instead of having a prospect wait a day, week, or month for your live webinar. You can offer "just-in-time" webinars that look and function just like a live webinar, but it's all been pre-recorded.
This allows greater leverage of your time and provides you with all of the benefits of a live webinar, without all of the extra work.
GrooveWebinars will be available in the 4th quarter of 2020.
GrooveDesk - Happy Help Desk Happy Customers
We all know how important it is for businesses to offer support to customers.
However, many businesses, especially online-based ones lack any kind of system to actually fulfill support.
They typically rely on email alone and things get lost or they forget to respond, and customers end up unsupported and unhappy.
The GrooveDesk is designed to help you serve your clients better by providing you with the systems to track and respond to their support requests.
GrooveDesk includes a ticket management system, team inboxes, area for help articles, and live chat.
You get an unlimited number of support agents included with GrooveDesk without having to pay additional fees unlike every other support desk solution out there.
Additionally, you can track client feedback and measure your team's performance.
GrooveDesk is set to be released in the 4th quarter of 2020.
GrooveCalendar - Time Saving Scheduling System
Keeping up with your own busy schedule can be chaotic.
It gets even worse when you start throwing in your team member's schedules.
Then further complicated when you need to schedule consultations, appointments, or classes with your clients and leads.
Bypass the 700 emails that you have to send back and forth trying to schedule out meetings, appointments, consultations, or live classes.
Instead, replace this inefficient process with a GrooveCalendar's scheduling system that allows you to preset appointments of varying lengths for you and your team.
This allows your clients to book time slots with you directly, without the back and forth email scheduling nightmare.
When it's time for the appointment, GrooveCalendar will automatically send out reminders to keep you from waiting for a late arrival.
GrooveCalendar is slated for release in the 4th quarter of 2020.
GrooveSurvey - Interactive Customer Feedback
Feedback from customers is an essential part of business growth because it helps you plan for the future and know what you're doing right and wrong.
However, without a feedback system in place, most clients and customers will never let you know what they're thinking.
With GrooveSurvey, you can create surveys of different question types, ratings, multiple-choice, text boxes, etc to get real feedback and customer reviews.
On top of that, you'll be able to create fun interactive lead generation quizzes. You know the type, you see them all of the time on Facebook…
Tell me, what Disney Princess are you anyway?
One of the coolest features of this system will be its integration into GrooveMail which will allow you to create relevant email follow-up sequences depending on the type of answers your survey takers provide.
GrooveSurvey is set to launch in the 4th quarter of 2020.
After we've reviewed all of the amazing functionality you get with this platform, the final piece of this review of GrooveFunnels will cover the current pricing.
The team at GrooveFunnels has already rolled out part of their software suite to users who want to get a first-hand experience of using the online marketing platform.
You like free things right?
Well, the beauty of GrooveFunnels is the release of a completely free version of the software suite.
No, it's not a $1 trial and then hundreds of dollars a month after.
It's a completely free plan that doesn't even require a credit card to sign up for.
So what's the catch?
Honestly, there isn't one.
The free version of GrooveFunnels includes access to:
GroovePages LITE (has some limitations over the Pro version, but still a fully functioning website building platform)
GrooveSell (no known limitations)
GrooveAffiliate (no known limitations)
GrooveVideo (must provide your own video storage space)
Ready to get started with a free account?
Sign up now by clicking the banner below.

If you're looking for the other features as laid out above, you'll need to upgrade to one of their paid plans.
Now, since GrooveFunnels is still under development and some of the features have not launched yet, they're offering their Platinum plan with LIFETIME access.
The Lifetime Platinum plan includes all of the current tools and features within GrooveFunnels, as well as all upgrades to the platform as time goes on.
Before I signed up, I did some math and added up the cost of all of the current marketing platforms that I pay for.
Things like my website, email marketing, landing page builder, video marketing tools, webinar system, and a few others.
After adding up the cost that I would incur with these platforms, compared to the amount of money that I would save by purchasing the Lifetime Platinum plan…
Over the next 5 years, I will be saving over $24,000 in marketing tool costs by switching to GrooveFunnels.
That means, by reducing down my expenses I will have increased my profit over the next 5 years by $24,000 without increasing sales.
I could keep adding up my savings years beyond that 5-year mark.
Your current monthly marketing platform costs may be lower than mine were, but imagine how nice it will be to stop paying all of those monthly platform fees for life!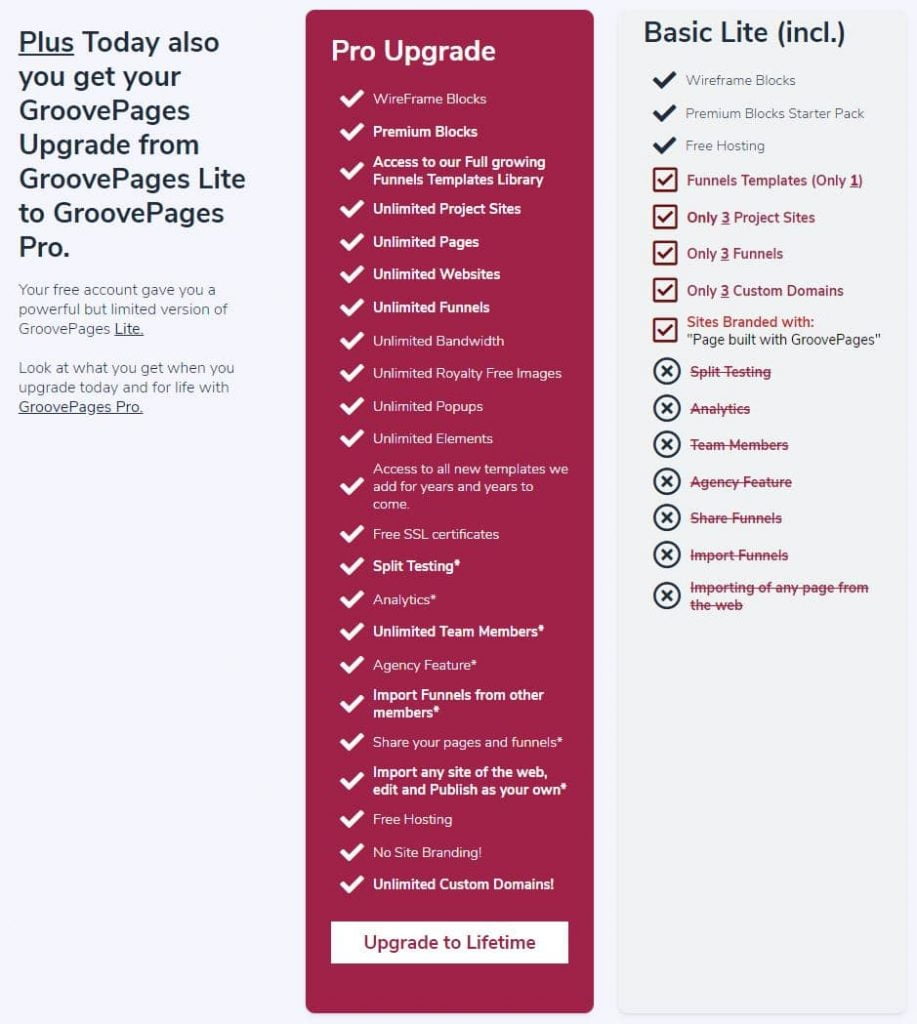 So, How Much is GrooveFunnels?
Right now, since the platform is still being developed, it's being offered at a huge LIFETIME priced discount.
For a limited time, you can purchase access to GrooveFunnels Platinum Lifetime plan which will include all of the tools currently released, all tools slated for release later this year, and all additional tools and upgrades released in the future.
The whole platform and all future upgrades for a one-time payment of $1897.
Since some people would rather not pay that some all at once, they've created 3 convenient payment plans.
4 monthly payments of $497
6 monthly payments of $388
12 monthly payments of $288
Again, this pricing is limited and will not last long.
Don't miss out on this amazing offer. Click the banner below to sign up for your GrooveFunnels account and get access to this exclusive LIFETIME offer.

After the official launch of GrooveFunnels, the software suite will be available for purchase under three payment plans as outlined below.
Silver Plan – $99/mo – has the core features required to run a small business or product funnel launch.
Gold Plan – $199/mo – has all the core features and includes additional tools required by professionals to run an online business.
Platinum Plan – $299/mo – has all of the tools and features as outlined throughout this article. Is designed for marketers and businesses looking to rock their online marketing.


Let's take a look at what features you get with each plan.
The applications that you will get in the silver plan include:
GroovePages Pro
GrooveSell
GrooveAffiliate
GrooveMember
GrooveMail
GrooveVideo
With the silver package, you'll have most of the applications you'll need to run your online business when it's first launching.
You'll be able to build out your website, create sales funnels, recruit affiliates, create membership sites or online courses, use video marketing, and create advanced follow-up sequences using GrooveMail.
Once the limited Lifetime Platinum plan option expires, the silver package will be available for $99 a month.
The Gold plan will include the following features of GrooveFunnels:
GroovePages Pro
GrooveSell
GrooveAffiliate
GrooveMember
GrooveMail
GrooveVideo
GrooveBlog
GrooveCalendar
GrooveSurvey
GrooveDesk


You'll get all of the tools included in the Silver package but with the additional functionality of creating blogs, scheduling appointments and classes, launching customer surveys and supporting your clients with the help desk.
Once the limited Lifetime Platinum plan option expires, the gold package will be available for $199 a month.
The Gold plan will include the following features of GrooveFunnels:
GroovePages Pro
GrooveSell
GrooveAffiliate
GrooveMember
GrooveMail
GrooveVideo
GrooveBlog
GrooveCalendar
GrooveSurvey
GrooveDesk
GrooveWebinars
GrooveEvergreen
Webinars
GrooveKart


With the Platinum plan, you'll get all of the tools and features available within GrooveFunnels, but it will include a $299 monthly fee.
However, by upgrading today, you can get all of the tools, features, and benefits of GrooveFunnels without having to pay ongoing monthly fees.
GrooveFunnels Pros and Cons
Pros
So, what benefits do you get with the GrooveFunnels Application pack?
See the list below for what we consider to be the perks of this marketing software.
Actively developed platform
GroovePages load very quickly
The individual applications integrate with each other by default
Completely free plan available to test out the platform
Lifetime upgrade saves you money
Easy to use interface
Uses new technology
Active Facebook community
A comprehensive repository of written and video tutorials
Cons
Some of the applications have not been released yet
There is a learning curve to learning all of the features in the platform
Final Thoughts - Is GrooveFunnels Really Worth Getting?
Yes!
Even though GrooveFunnels is still under active development, and some of the features have not been released yet, I've gone all-in on this software suite.
It wasn't long after I had signed up for a free GrooveFunnels account that I decided to purchase the Lifetime Platinum plan.
The comprehensive nature of this platform is allowing me to replace multiple different marketing platforms and bypass all of the work of creating and maintaining the connectivity of these various platforms.
I'm excited about designing fast and instantly ready mobile-friendly websites.
Of being able to utilize the interconnectivity of the various tools together.
And extremely happy about the idea of consolidating everything together under one roof and not having to sign into 15 different websites.
After reading our review of GrooveFunnels, even if you don't think the GrooveFunnels lifetime deal is worth it for you, I would definitely recommend signing up for a free account and checking the platform out.
There's nothing to lose by signing up for the free plan, but after checking out the platform, you may realize you just gained a whole lot!
GrooveFunnels Frequently Asked Questions