Comprehensive Online Marketing Platform >> ClickFunnels & Karta Alternative
Groove Funnels is a comprehensive online marketing platform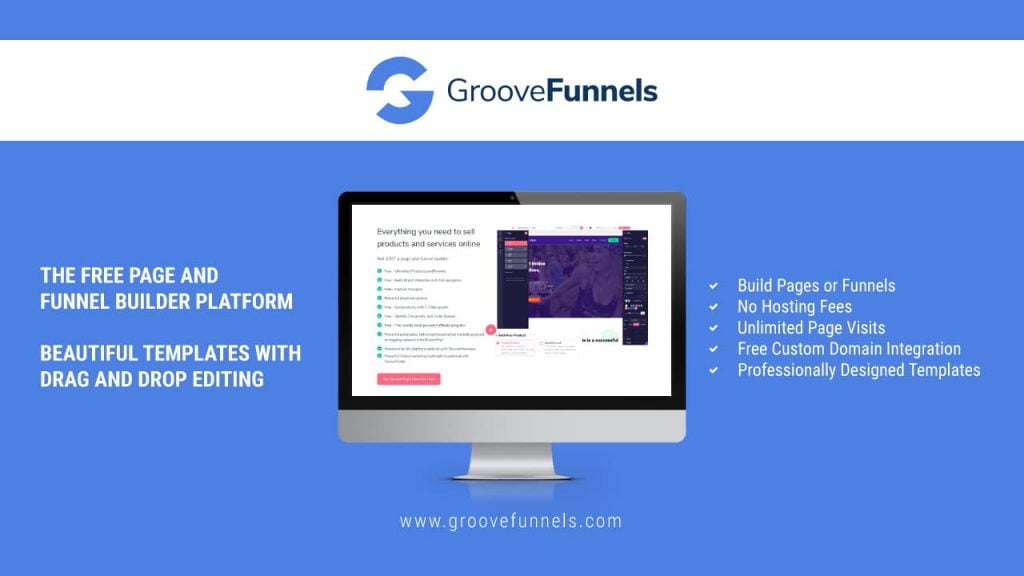 Many people are calling it the ClickFunnels killer, but after listening to a recent webinar by the founder of Groove Funnels, Mike Filsaime, they actually have their eyes set on a much bigger goal.
Replacing SalesForce.
Realistically, they have a long way to go before they can reach that dream, but it reveals something about them as an organization.
They have a big vision for their future.
SalesForce is a multi-billion dollar company. While other online marketing platforms are closer to the 100 million dollar range.
It would be much easier for them to set their goal on being the ClickFunnels replacement, but I like that they've set their sights much higher than that.
Personally, I love dealing with companies that have big goals for their future. It gives me the confidence to formalize my own long term strategies and vision using the platform.
Third-party platforms have inherent risks to them. We really have zero control over the platform itself.
There's always a risk of spending so much time and effort building something out onto a platform and within a few years that platform goes out of business.
Or, maybe even worse, they lose interest and the platform still exists but goes down the drain.
I have been burned by both of these scenarios in the past, so I'm now typically a little more careful before jumping into a new platform.
However, the more I've been playing with GrooveFunnels, looking over their material, and watching their videos/webinars the more convinced I've become that this marketing platform has an amazing future ahead of it.
GrooveFunnels Is Designed To Help You Sell, Not Constantly Sell You
Mike Filsaime said something on a recent webinar that convinced me to go all-in on GrooveFunnels.
As he was sharing about the software and some upcoming release dates, he made the following statement "Look we're a software company first."
Meaning, we're not trying to be a marketing company disguised as a software company that wants to try to sell you every new feature, and continually upselling you. We're focused on building an amazing platform that people actually use for their company's marketing.
This right here has been my main complaint with so many SaaS platforms out there, especially marketing ones. They are constantly working you to buy something new.
They sell you on the idea of doing everything with one simple price. But then when you get into the platform, you realize quickly that you can't do what you need to do without upgrading to their maximum plan or adding on 10 different add-on services.
From everything that I can see with GrooveFunnels, they're designing their system the complete opposite of the "always upselling" model.
They currently have a completely free version with access to some of the features and some limitations.
Their current upgrade is being sold at a one-time price with lifetime access. Including all of the future features that haven't been released yet.
So instead of nickel and diming you for every new feature that's released, they're rewarding you for supporting them in the beginning.
Eventually, GrooveFunnels will move to a monthly reoccurring fee that will cost exponentially more over time than getting it now at the founder's rate.
What Does GrooveFunnels Include?
An interactive page builder for landing pages, opt-in pages, or whole websites.
Think Wix & SquareSpace meets click funnels & Leadpages.
A sales system for selling your digital products, courses, and subscriptions.
Think clickfunnels or samcart.
An affiliate system for handling your company's affiliates.
Think clickbank or JVZoo.
An email marketing system with lead management, group segments, drip campaigns, logic-based emails, and much more.
Think AWeber, Constant Contact or Mailchimp.
A membership platform for online courses or training.
Think Kartra, teachable, or Thinkific.
A smart video marketing integration that allows you to track and control how users interact with your videos.
Think Wistia or Vimeo.
A complete e-commerce platform with drag and drop designer, 1 click upgrades, and so much more.
Think Shopify or WooCommerce.
A streamlined blogging platform designed for simplicity.
Think WordPress, but much simpler.
A complete webinar solution with live, scheduled, and on-demand webinar options.
Think GotoWebinar and EverWebinar.
A support desk system to help manage your customer relations inquiries.
Think Zendesk or Freshdesk.
A booking management system that allows your customers to schedule and purchase time slots for consulting or classes.
Think Calendly or Acuity Scheduling.
A simple survey system to get feedback from your clients, customers, and prospects.
Think like SurveyMonkey's little brother.
GrooveFunnels Is Currently still In Beta - But Launching Fully Soon!

As of now, they have GroovePages, GrooveSell, GrooveAffiliate, and GrooveKart mostly complete with the occasional bug popping up.
Groovemail, GrooveMember, and GrooveVideo are scheduled to launch in late July 2020.
GrooveBlog, GrooveWebinars, GrooveDesk, GrooveCalendar, and GrooveSurvey are scheduled for release before the end of the year.
They've been straight forward in saying that their goal is to launch a fully working, bug-free system before leaving beta.
So for the foreseeable future, they still have an amazing lifetime founder deal available to purchase.
GrooveFunnels Pricing - Free Is For Me
Currently, they are offering a free plan that gives you access to GroovePages, GrooveSell, and GrooveAffiliate.
With these systems together, you can design out a complete sales funnel with your pages, products, upsells, downsells…the whole nine yards.
On top of that, you can then leverage your sales funnel with affiliates and exponentially increase your sales.
There are some limitations to the free account, but that's just life.
Also, I was on a webinar last week and they announced that they were going to be introducing a free version of their GrooveKart platform. Which would provide you with a free online eCommerce Shopify alternative.
I would highly recommend taking advantage of the free access.
It's lifetime free access and they don't require you to put in any kind of credit card information.
Because they're still in development they're offering an amazing lifetime deal that will provide access to all of the features (current, scheduled, and future) of the entire GrooveFunnels platform.
For a single price, or broken up into a payment plan, you will own your access to the platform.
Once GrooveFunnels launches and moves out of beta they are planning on moving to a monthly reoccurring pricing plan of $99/mo, $199/mo, and $299/mo.
Each of these packages will provide access to different features of the platform, with the $299/mo being equivalent to the current Lifetime Platinum Access.
So far WAY LESS than what you would end up spending for a year of access to GrooveFunnels you can get LIFETIME access.
After looking over the entire platform and testing out the free version, I knew that this was well worth the price.
Profit = Revenue - Expenses
Not only do I know that I can use this platform to build out my sales funnels and make money using it.
But over the next 5 years, I will be saving over $24,000.
After replacing all of the marketing platforms I currently pay for with GrooveFunnels, I will have increased my profit over the next 5 years by $24,000 without increasing sales.
I don't know about you, but that's worth the cost that I'll incur getting all of my data migrated over from the current platforms to GrooveFunnels.
Opens New Doors Without Additional Expenses
Over the years I've considered creating some courses to sell.
I don't currently have any and so I'm not paying for any kind of course management platform.
But, once I decide to move forward in that direction, I don't have to consider my startup cost of how much I'm going to have to spend on a new platform before I'm making money.
Add Additional Service Offerings To My Company
I've had prospects come to me over the last couple of years asking if I can help them build out a Shopify store.
From everything that I've read, it seems to be a pretty straight forward system. But for me to learn it, I would need to pay for a membership. That's something I haven't wanted to do.
Now, with access to GrooveKart, I can build out some online stores to test out the platform and in the future offer eCommerce design as one of my service offerings.
This has the potential of making me a lot of money between the actual setup process and ongoing marketing.
Save Myself From Buying Another Service
Another item that I've been looking at purchasing is a scheduling platform.
I'm currently designing a VSL sales funnel, and part of the funnel will include a need for my clients to schedule an appointment.
Going back and forth by email with anyone trying to nail down a meeting time can be a nightmare. Especially when your clients are business owners and are busy.
So in order for this sales funnel to function smoothly, I'm going to need a way to easily make available my schedule and allow my client to choose a time and book a meeting.
There are quite a few of these systems out there. Calendly is one that I've seen often.
It's not too expensive, about $12 per month for what I would need.
But, every $12 a month starts to add up, especially the more of these systems you start putting in place.
It's easy for costs to begin to get out of control as you figure out you need this platform, that platform, and 12 others.
Beyond just the cost though, it's not another platform I need to integrate into my sales platform, funnel builder, email follow-ups, etc.
Having all of these systems automatically integrated by default is a dream that I can't wait to be fulfilled!
Now to close out this "review"…
I know, this whole thing was more like thoughts, but I am creating some standalone reviews of each of the GrooveFunnels features.
These reviews will actually get more into the nitty-gritty of each platform and how they work.
Bottom line, don't forget to sign up for at least the free account.
I think the Platinum Lifetime upgrade is beyond worth it if you're planning on doing any kind of online marketing.
Also, just a little heads up.
On the last GrooveFunnels webinar I was on, they announced they were going to be increasing the lifetime price by 35% in the next few days.
So if you're sitting on the fence, I recommend taking some quick action and saving yourself more money.
Okay, I'm done!
If you have any questions, feel free to use the contact form on the contact us page.
–Daniel
GrooveFunnels Frequently Asked Questions